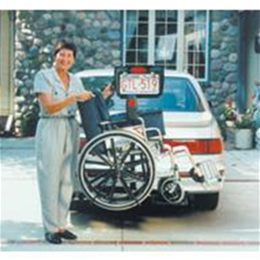 This simple to operate product lifts and stores your manual wheelchair at the back of the vehicle. Once the wheelchair has been rolled on to the platform, press a button to raise and lock into place with an automatic Hold-Tite Arm. View more
The Bruno Back-Saver Vehicle Lift is simple to operate and does not require any manual lifting. Just fold the chair up and roll it onto the platform. Turn the key to the ON position and let the machine do its magic! Unloading the wheelchair is just as simple and trouble-free.
Rated to handle most folding wheelchairs, with 22'' or larger rear wheels, and features a 100 lb./45 kg. weight capacity.

Fits a standard Class I hitch tongue or a Class II/III if an adapter is used. It also features a strong, tubular frame for structural rigidity and maximum durability.

Features a self-locking, hold-tite bar that's designed to grip the chair firmly during transport, without marring its finish.

Meets state and federal D.O.T. regulations for license plate illumination and visibility. It also includes an extra brake light for security and peace of mind.