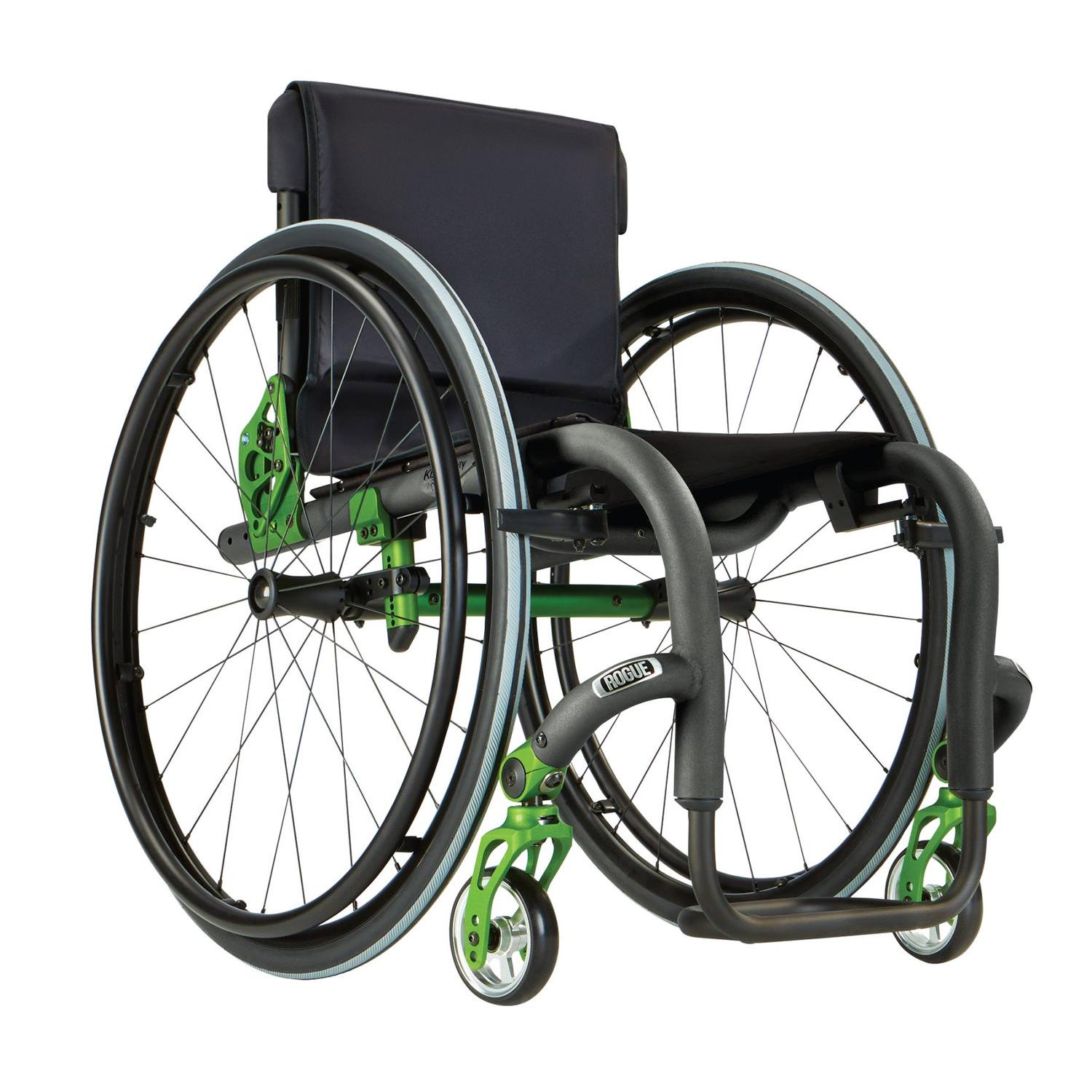 It is in the soul of the Rogue, the way it stands out, it's defiance of convention, it's independence that separates it from all other.
Resist conformity. Go Rogue.
The Rogue experience introduces you to state-of-the-art design innovation that lends itself to the highest level of responsiveness and rigidity than has ever been felt before. You will be riveted by the level of responsiveness and precision handling felt with every turn, with every push. Quality construction and finite adjustment ensures that it can fit the needs and ambitions of the person using it. At 10.6lbs Rogue moves with you around every corner and across every street with minimal effort.
Ki Mobility Rogue
| | |
| --- | --- |
| Transport Weight | 10.6 lbs |
| Seat Width | 12"-20" |
| Seat Depth | 14"-20" |
| Front Seat Height | 13.5"-20.5" |
| Rear Seat Height | 12.5"-20" |
| Camber | 0°, 2°, 4°, 6°, 8° |
| Tubing O.D. | 1 3/8" |
| Weight Capacity | 275 lbs. |
Ultra Responsive Ride You will not feel anything else like it.
Extreme Lightweight Incredibly light with a 10.6 lb. transport weight, Rogue is a high performance rigid frame.
New Ergonomic Backrest Mechanism The NEW, ergonomic locking backrest can be actuated with one hand.
RP Tuning It's the only caster adjustment system which gives perfect alignment for everyone at any seat angle.
Tower And Side Frame Adjustment System Rogue, a custom look with built-in adjustment.
Recognition. Protection. The Rogue badge is a brushed aluminum badge that adheres to the front wing.
Adjustable Fender Side Guards Add a sleek look to your chair with the Carbon Fiber or Aluminum Adjustable Fender Side.
Maxx Performance Spoke Maxx Performance is our new spoke wheel that offers performance and style without a high price.
WC-19 Transit Approved Finally a clean, aesthetic transit tie-down for a rigid frame that passes WC-19.