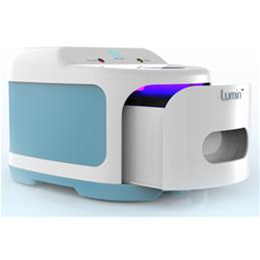 The Lumin CPAP Cleaning System uses UV Light to disinfect your CPAP mask, tubing, water chamber and headgear. Complete the order request form to get more information about the Lumin Cleaning System. View more
If you use your CPAP equipment every night, you want to make sure your equipment is as clean as possible. With the Lumin CPAP Cleaning System, you can rid your equipment of bacteria, mold, fungus and viruses with the push of a button.
How Lumin CPAP Cleaner Works
Most CPAP sanitation systems use either chemicals or activated oxygen (Ozone) technology to disincect your equipment. The Lumin CPAP Cleaner can provide hospital-grade sterilization to eliminate 99.9% of germs, bacteria and viruses using UV light. Using UV light at the proper wavelength (254 nm) allows your equipment to be cleaned in just five minutes. Simply place your equipment inside the sanitation chamber, and the unit will disinfect:
CPAP masks
CPAP tubing
Mask headgear
Humidification chamber
If you are interested in learning more about the Lumin CPAP Cleaning System, complete our Order Request Form to contact Southern Pharmaceutical Corporation. Our team is ready to answer any questions you have.