Mobility Matters: Your Guide to Mobility Aids and More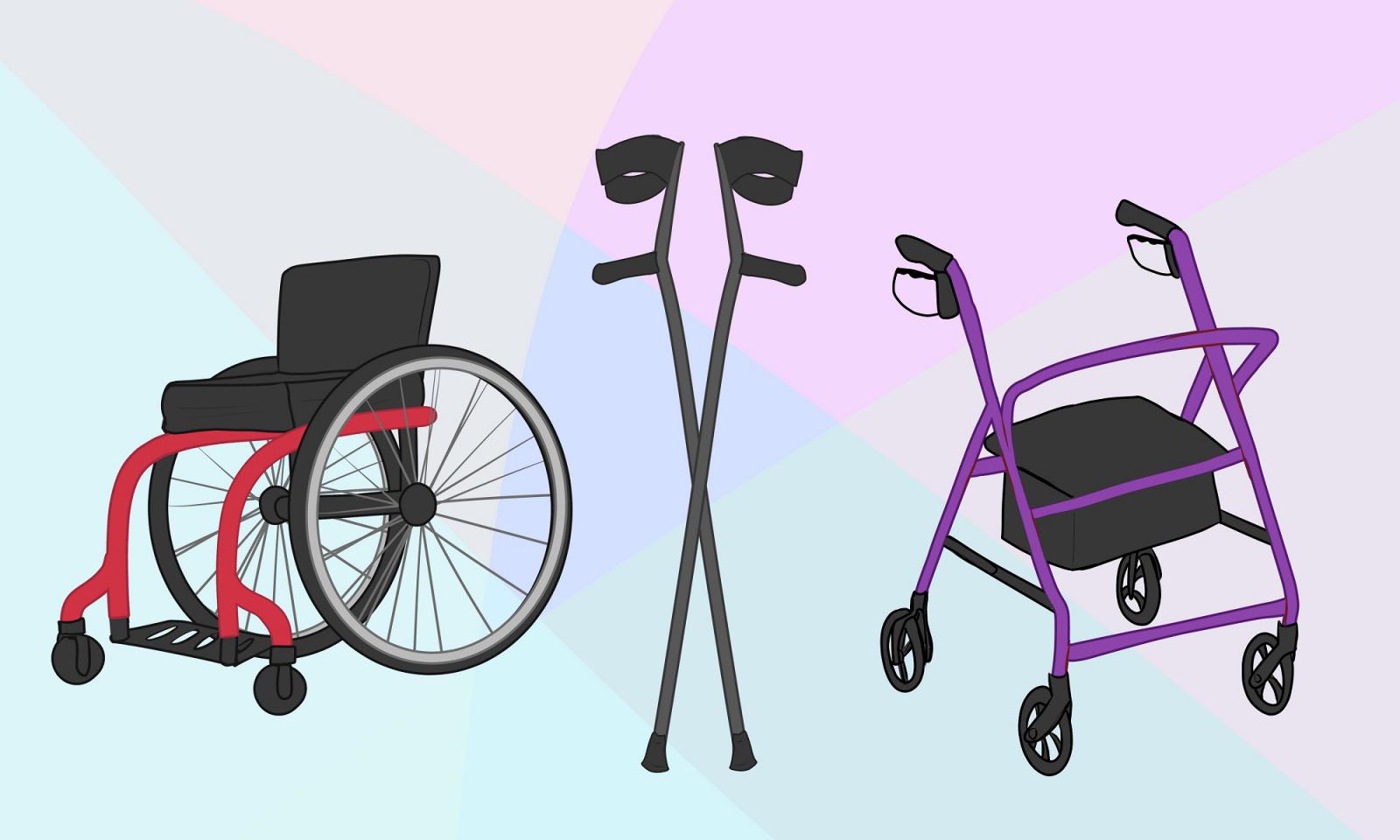 At Southern Pharmaceutical Corporation, we're dedicated to helping people live more safely, comfortably and independently through the use of the right mobility aid. As you grow older, deal with a medical condition or acquire an injury, you may find your mobility impaired. In times like these, mobility aids help you regain your independence and freedom. But with so many choices out there, how do you know which device is right for you, where to get one and how to pay for it? Well, our mobility guide answers all these questions. Keep reading to learn more about how mobility aids can change your life.
---
What Is a Mobility Device?
A mobility aid is a device that is designed to help individuals who have problems moving around complete daily activities and enjoy greater freedom and independence. There are many different types of mobility aids available including canes and crutches, manual and power wheelchairs, scooters, walkers and rollators, and more.
---
A cane is a walking stick that provides support if you have problems with balance or stability, weakness in your leg or trunk, an injury or chronic pain. Canes can assist with balance, widen your base of support, and decrease weight-bearing pressure on your knee, hip or leg.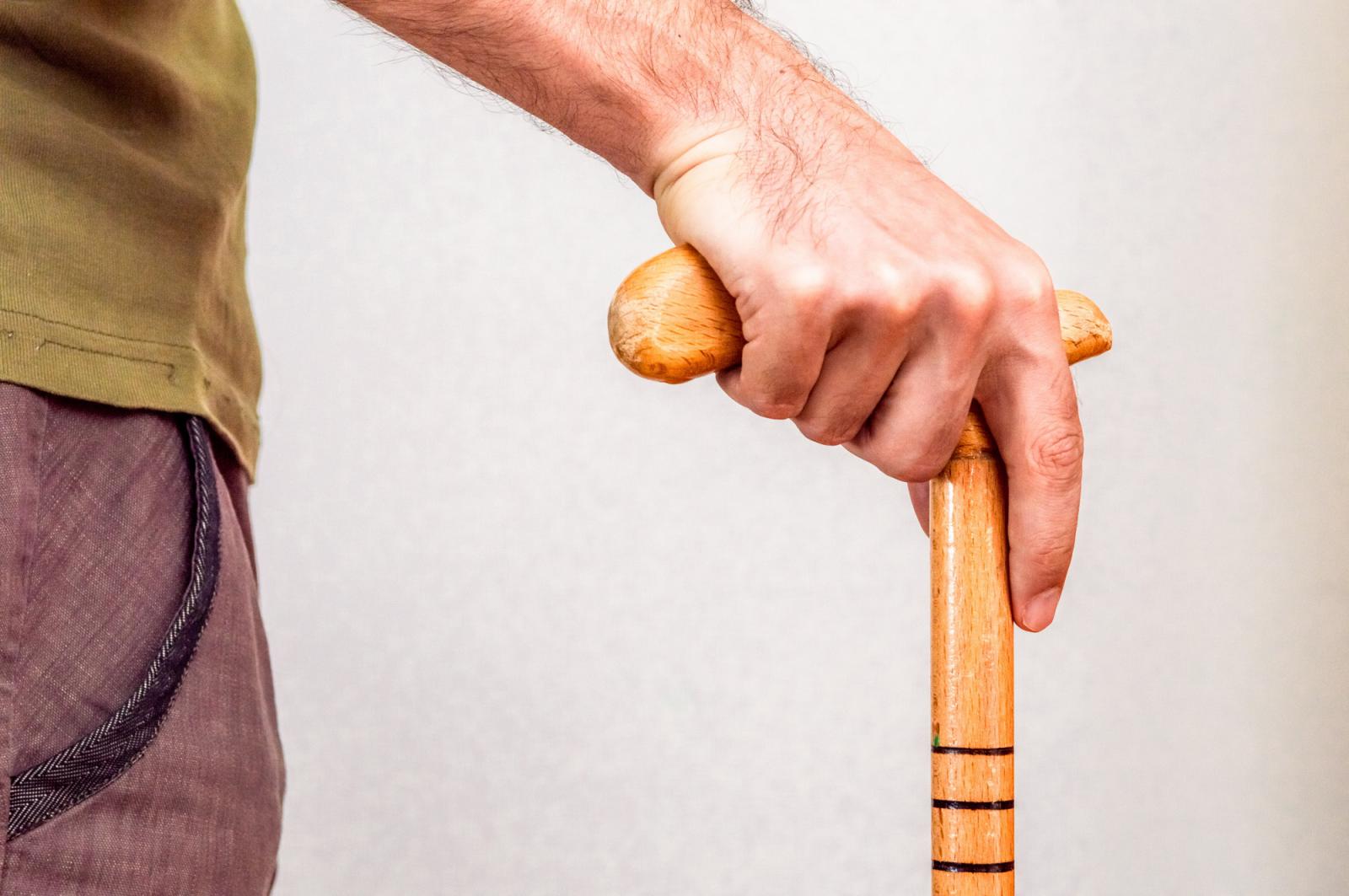 Conditions that may require the use of a cane include:
Severe knee or hip arthritis
Lower extremity fracture
Recovery from knee surgery or hip surgery including joint replacement
Stroke rehabilitation
Fragility due to older age or illness
Degenerative movement disorders (Parkinson's disease, multiple sclerosis and Huntington's disease)
If you're elderly, a cane may help you walk more safely and comfortably, and in some cases, allow you to continue living independently.
Choosing the Right Cane
There are different types of canes available to suit a variety of user's needs. Choosing the right cane depends on how much support you will require from it and what your orthopedist or physical therapist determine is appropriate for your condition. In many cases, a standard single-footed cane is appropriate.
Types of Canes Available
There are various types of canes available out there including:
Single-Point Cane: The standard cane that's most common and has a single support point at the end of it. It's suitable for many people.
Multiple-Point Cane: Also known as a quad cane and tripod cane, this type of cane has several points that touch the ground and provide more stable support for individuals who require more assistance with balancing. These canes offer the highest level of support.
Folding Cane: This type of cane is designed to fold and become compact enough to store easily in a bag. Most of these canes are also height adjustable and ideal for those that want the convenience of storing their cane when not in use.
Seat Cane: This type of cane can have a single-point or multiple-point bottom, but it will have a seat attached to it. This is ideal for those that struggle with walking on their own or may need to take breaks between their walks.
How to Use a Cane
Stand up straight with your arm down straight and fit the cane to the height of the bend in your wrist.
Your elbow should be slightly bent when you hold your cane.
Hold the cane in the hand opposite the side that needs support. For example, if your left leg is injured, hold the cane in your right hand.
The cane and the weak leg move together when walking and the cane should remain close to you while walking.
---
A crutch is a long stick with a crosspiece at the top, that is used as a support under the armpit by a person with an injury or disability. A crutch increases the size of an individual's base of support. This transfers the weight from the legs to the upper body and is often used by people who cannot use their legs to support their weight (it can be from a short-term injury to a lifelong disability).
Choosing the Right Crutches
Much like a cane, choosing the right crutch will depend on your circumstances and how much support you will need. Underarm crutches are the most widely used but there are other options as well.
Types of Crutches Available
There are three types of crutches available:
Underarm Crutches: Underarm crutches (also known as axilla crutches) are the most common type of crutch. They're placed in your underarm for use and can be adjusted for height. They're easy to use and balance but can lead to discomfort and fatigue over time.
Forearm Crutches: These crutches are also known as elbow crutches. They have a cuff that goes around your forearm and handles for your hand to grip. These crutches are most often used by people who need long-term crutches.
Gutter Crutches: Also known as forearm support and platform crutches, gutter crutches have padded forearms and adjustable handles that can help individuals who need more support from their crutches.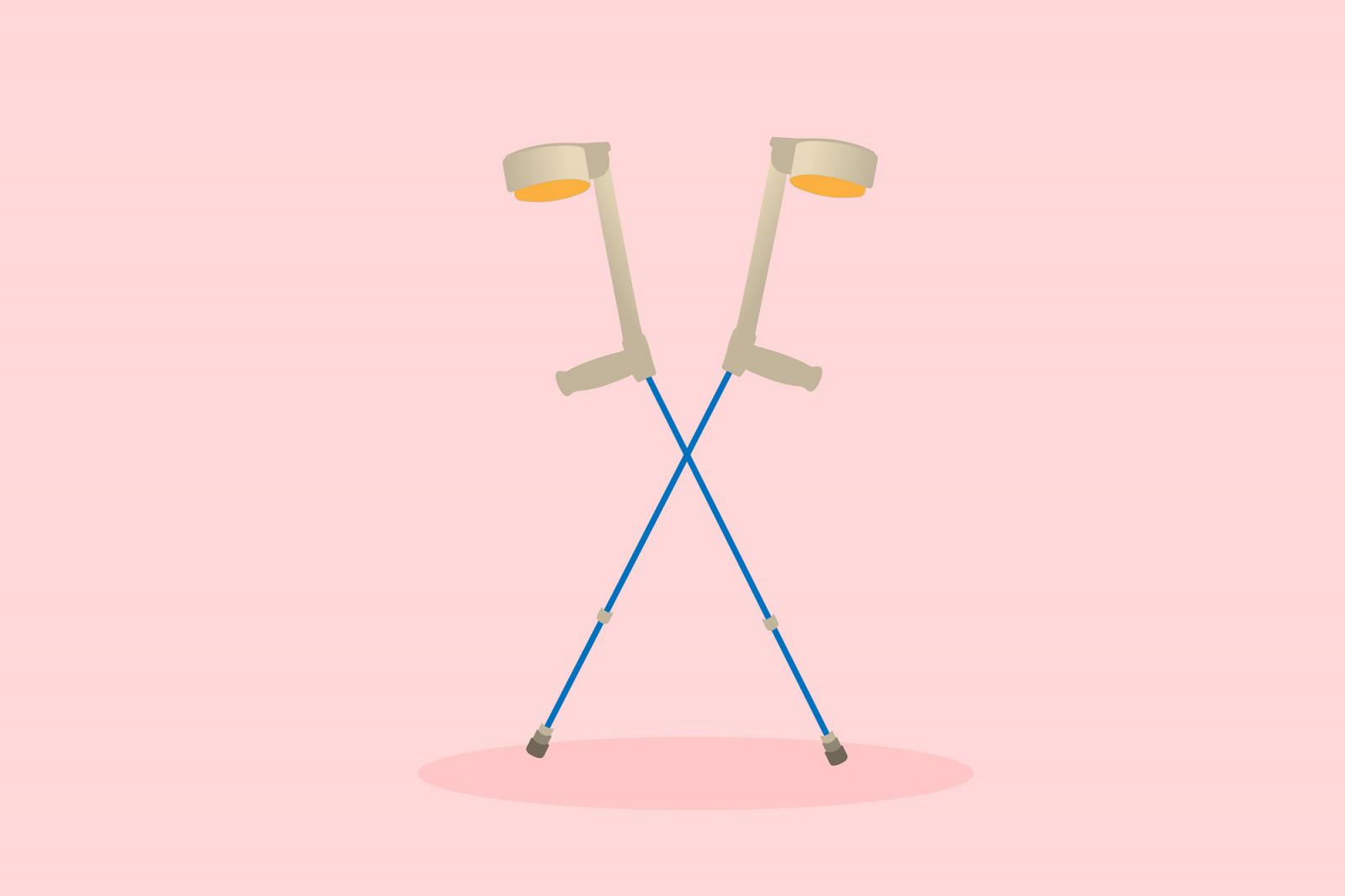 How to Use Crutches
Below, we've shared some basic tips on moving around on crutches from MedlinePlus. These tips may or may not apply depending on the type of crutches you're using. Speak to your physician or physical therapist if you need help with your crutch.
Let your hands carry your weight and not your armpits.
Look forward when you're walking, not down at your feet.
Pick a chair with armrests to make sitting and standing easier.
Ensure that your crutches have been adjusted to suit your height. The top should be 1 to 1 ½ inches below your armpit. The handles should be at hip level.
Your elbows should be slightly bent when you hold the handles.
Keep the tip of your cutches about 3 inches away from your feet so you don't trip.
---
A manual wheelchair is a manually operated or power-driven device designed primarily for use by an individual with a mobility disability, injury or one who is recovering from surgery for locomotion indoors and outdoors. Manual wheelchairs come in many sizes, shapes and styles to suit a variety of wants and needs.
They're easy to maintain, lightweight and the least expensive to purchase. Wheelchairs are made of many materials including steel, aluminum, titanium and carbon fiber.
Choosing the Right Manual Wheelchair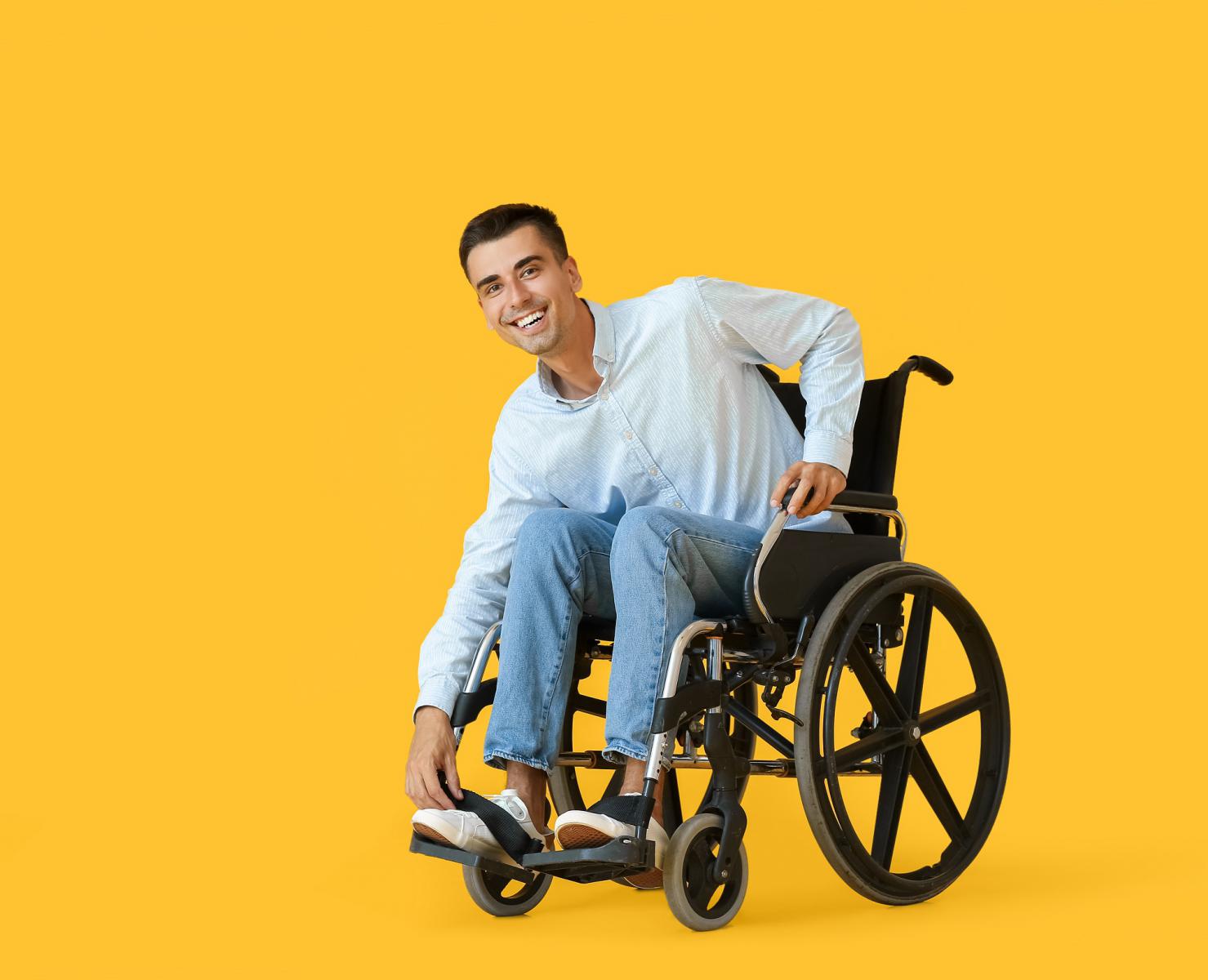 Wheelchairs enable users to become more mobile and independent. Wheelchairs allow users to take part in everyday activities, despite having reduced mobility. There are several factors that you need to take into consideration when choosing a wheelchair, including:
Controls
Measurements (seat size, seat-to-floor height, etc.)
Optional features (footrest/legrest, adjustable backrest, etc.)
Accessories available (wheelchair cushions, trays, bags, etc.)
Additionally, you'll want to consider how long you'll be using the wheelchair, how much support you need, if you can push the wheelchair yourself, your measurements, and what sort of activities you expect to do in it. Many features can be customized or added on to basic wheelchair models.
Types of Manual Wheelchairs Available
There are many types of wheelchairs available, and we have listed some of the most common types below as defined by Sunrise Medical.
Standard Wheelchair: Standard wheelchairs are the most frequently used wheelchairs. They weigh over 35 lbs. without the front rigging and have a seat width and depth between 16 and 20 inches. Standard wheelchairs will have fixed or detachable armrests and have more adjustability than a transport chair.
Transport Wheelchair: A transport wheelchair may be used by an individual who doesn't require a manual wheelchair daily. These wheelchairs are used to "transport" a person from one location to another when they're unable to walk the required distance; for example, from a parked car to an office. People using these types of wheelchairs tend to be dependent on propulsion (another person pushes the wheelchair for the one that is sitting in it). Transport wheelchairs have minimal available adjustments, which is why they aren't ideal for someone who will be self-propelling.
Folding Wheelchair: Folding wheelchairs allow for easy folding and transportation. They're lighter in weight than standard wheelchairs and have more configuration options available including wheel types, tires, casters, armrests and wheel locks. A key differentiator between folding and standard wheelchairs is that folding wheelchairs have the ability to modify the placement of the rear wheel (it can be adjusted vertically and horizontally). Rear wheel adjustment is required for center of gravity adjustment. Additionally, the angle and the lateral position of the rear wheel can be adjusted in a folding wheelchair.
Rigid Wheelchair: Rigid wheelchairs allow for easier propulsion, and the more rigid the wheelchair, the easier it'll be to propel. A rigid wheelchair is lighter in weight than a folding wheelchair and doesn't have a cross-brace, which helps reduce the overall weight. The placement of the rear wheels can be modified to adjust the center of gravity, rear seat-to-floor height, camber and lateral access for an individual. Optimal positioning of the rear wheels allows for efficient propulsion for the wheelchair user.
Dynamic Tilt Wheelchair: Dynamic tilt, or tilt-in-space, wheelchairs are designed to help users redistribute pressure to reduce the risk of skin breakdown. They also help facilitate feeding and respiratory function and improve visual alignment by holding the head upright. These wheelchairs have a mechanism by which the angle of the seat pan relative to the floor can be altered in varying degrees to allow for a change in weight distribution between the cushion and back support. Dynamic tilt wheelchairs tend to be prescribed for individuals who are unable to shift their weight independently. Some dynamic tilt wheelchairs can be folded, depending on the configuration of the chair.
---
A power wheelchair is a device typically used by individuals who have a medical condition and have difficulty walking. People use power wheelchairs because they are unable to use a manual wheelchair or an electric scooter. Every electric wheelchair has a base, which is equipped with four or more wheels. Motorized wheelchairs generally have two large drive wheels and two or four smaller wheels called casters for added mobility. The drive wheels can be positioned in the front, middle or rear of the base.
Power wheelchairs can be used indoors and outdoors and come with a wide range of features to suit individuals' unique needs. Some have tighter turn radiuses, so they are designed for use in the home and are often compact and maneuverable. Other power wheelchairs are heavy-duty and suitable for varied terrain. Power wheelchairs provide people with greater independence and freedom so they can experience live more.
Choosing the Right Power Wheelchair
When it comes to choosing the right power wheelchair, the best thing to do is to consult an expert! You will want to talk to your doctor, but also an assistive technology professional (ATP) who can configure and custom fit the wheelchair to suit your unique needs and lifestyle. Our team is always here to help should you have questions or need help finding the right power chair.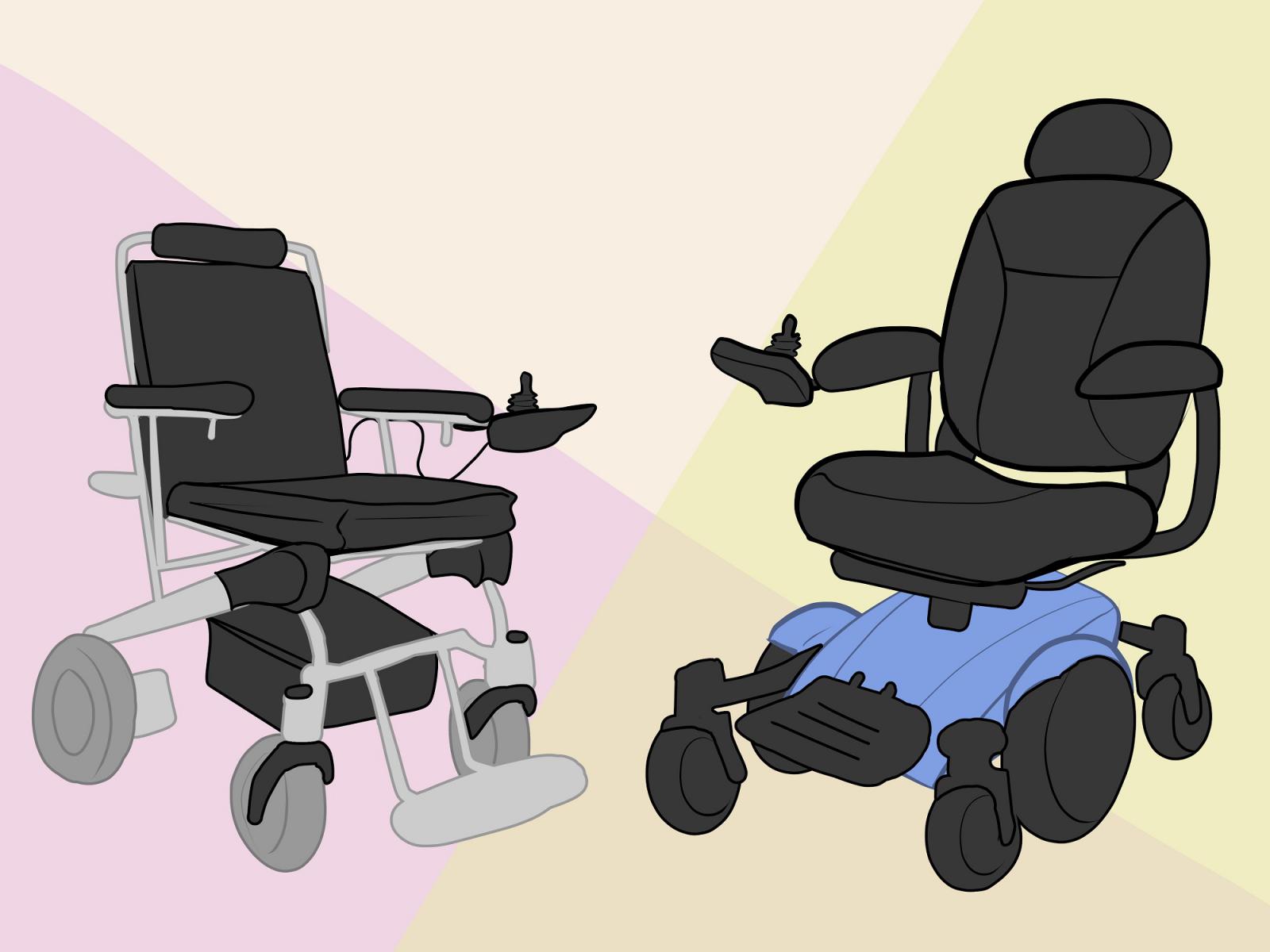 Types of Power Wheelchairs Available
The three main 'types' of power wheelchairs are rear-wheel, front-wheel and mid-wheel drive. From there, customizations are done by adding different components and accessories. These add-ons allow users to get a bespoke wheelchair that meets their needs.
Rear-Wheel Drive: These power chairs have four wheels that provide traction when driving.
Two large drive wheels positioned at the back of the chair's base. Two smaller front casters to aid in stability and maneuverability.
Pros: Offer good shock absorption and handle small changes in gradient well. Provide a smooth and comfortable driving experience.
Cons:Large turning radius isn't ideal for small spaces. Due to the small front wheels, they're unable to climb as easily over curbs.
Front-Wheel Drive: These power chairs also have four wheels that give traction when driving.
Two large drive wheels positioned near the front of the chair's base. Offer smooth ride and great for obstacle climbing. Biggest wheels being at front increases the height the chair can climb. Two smaller rear casters to aid in stability and maneuverability.
Pros: Comfortable ride with good obstacle capabilities. Performs well over many terrains and is good for drivers with alternative controls.
Cons: A larger turning radius than mid-wheel models, which slightly reduces maneuverability for individuals who spend a lot of time at home and would benefit from a full range of movement. It can be less user-friendly for beginners.
Mid-Wheel Drive: Power chairs with six wheels that give traction when driving.
Two large drive wheels positioned in the middle of the chair's base. This keeps the user's center of gravity directly over the drive wheels, which provides excellent stability. Four smaller wheels at the front and back. Additional wheels increase stability and ensure the chair won't tip, even when encountering uneven ground or bigger curbs and slopes.
Pros: Wheel positioning makes mid-wheel models easier to drive. Wheelchair users find them to be more intuitive. Features a 360° turning radius and is much smaller than front/rear-wheel models so you can perform full turns in tighter spaces.
Cons: Less comfortable than the previous two, as with six wheels, user will feel impact of bumps more. Less maneuverability in some situations.
---
What Is the Difference Between Manual and Power Wheelchairs?
Manual wheelchairs are often foldable and lightweight. They're reliable, less expensive, transportable and keep you fit. Power wheelchairs, on the other hand, allow you to move without effort and come with many power seating options (recline, tilt, stand) and other customizations to fit your needs.
Which will work better for you depends entirely on what your needs are. Our team of mobility experts can help you determine which solution will suit you best. We encourage you to give us a call or fill out our online contact form to get in touch with us. We can answer any questions you may have!
---
A mobility scooter is a mobility aid similar to a wheelchair but configured like a motorized scooter. A mobility scooter has a seat over three, four or five wheels, foot plates for the feet, and handlebars in front to turn one, two or three steerable wheels. The mobility scooter eliminates some of the manual strength needed to propel a manual wheelchair, but does still require upright posture, shoulder and hand strength and upper body mobility to steer.
Scooters are useful for individuals with limited mobility, who have trouble walking long distances or do not have enough stamina or arm/shoulder flexibility to use a manual wheelchair. Most mobility scooters are battery powered and come with various features to enhance your riding experience, such as battery indicators, baskets and other storage, security measures, lights and signals and more.
Types of Mobility Scooters Available
There are three main types of scooters—travel/portable scooters and three-wheel and four-wheel scooters.
Travel/Portable Scooters: These scooters can fold or be disassembled so they can fit into the trunk of a car or as airplane cargo. These scooters are often lighter than full-sized three- or four-wheel scooters.
Three-Wheel Scooters: These mobility scooters have a tight turning radius, making them easier to use indoors.
Four-Wheel Scooters: These scooters are more stable, and their risk of tipping is lower. Four-wheel scooters maneuver well over rough terrain and hills.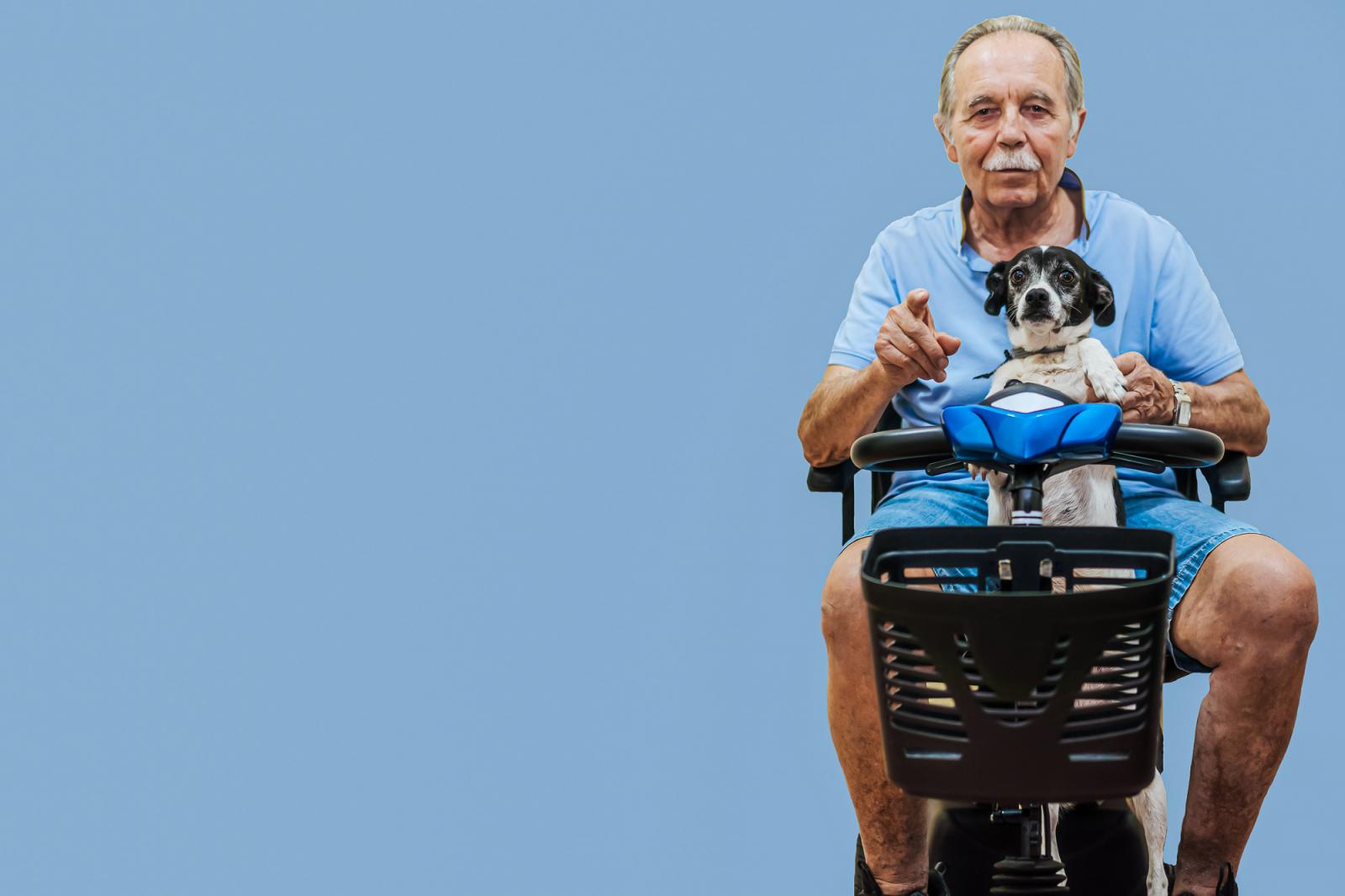 Mobility scooters have various features available such as different types of tillers, seats, suspension, wheels and more.
---
A walker is a walking aid that has four points of contact with the ground. It usually has three sides with the side closest to the user being open. This device provides a wider base of support than a walking stick, so it's used more to stabilize patients with poor balance and mobility or with lower extremity impairment.
Types of Walkers Available
A walker is a great way to safely get around with greater balance and stability. There are a few types of walkers available including: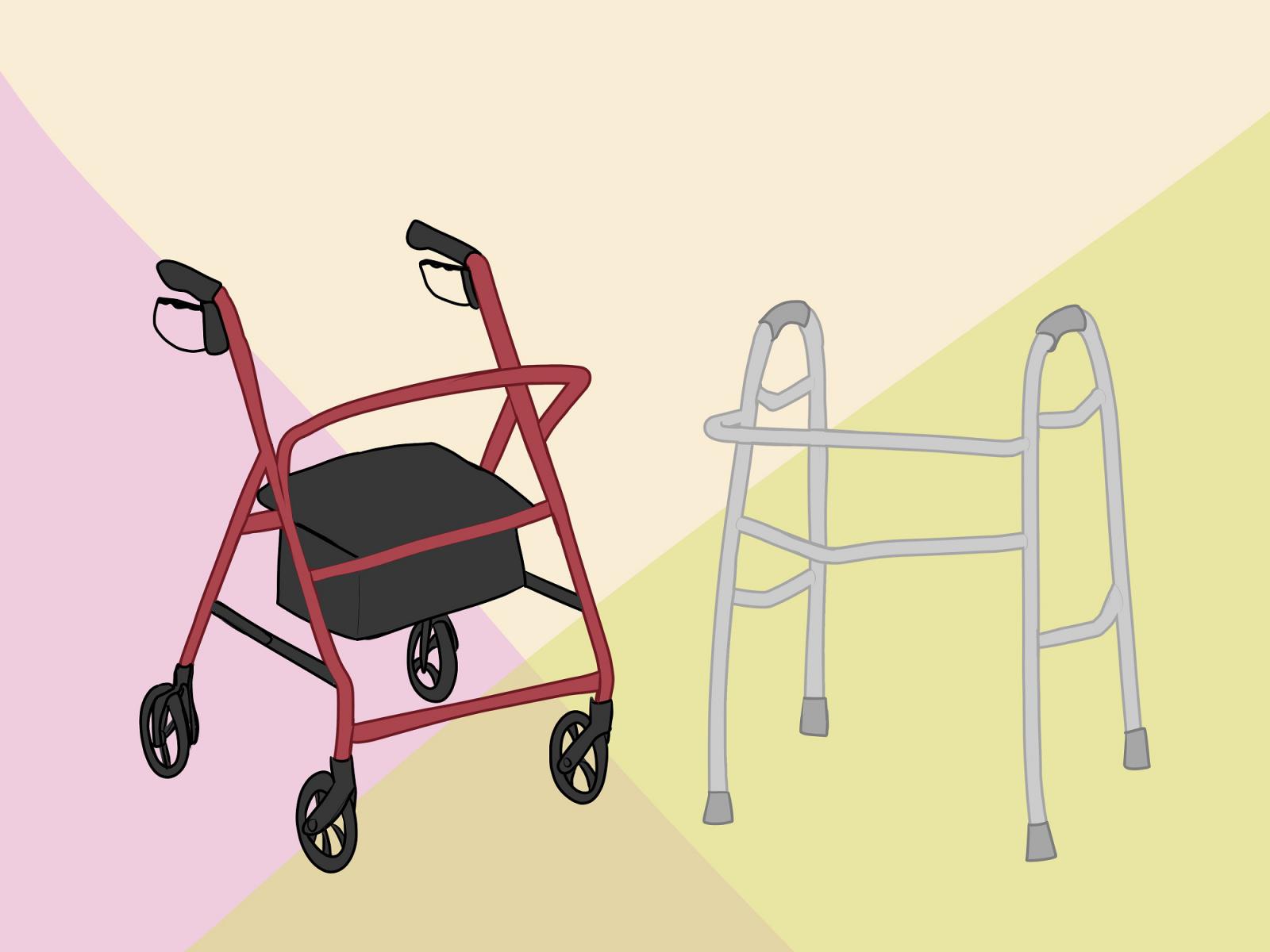 Standard Walker: A walker with four nonskid, rubber-tipped legs to provide stability. It must be picked up to be moved.
Two-Wheel Walker: This type of walker has wheels on the front two legs and is helpful if you need some, but not constant, weight-bearing help.
Three-Wheel Walker: This walker provides the user with balance support like a four-wheel walker, but it's lighter and more maneuverable.
Four-Wheel Walker: This is ideal for people who don't need to lean on the walker for balance.
Knee Walker: A knee walker is similar to a foot-propelled scooter, but it has a platform for resting your knee.
We carry walkers from leading brands such as Invacare. If you need a walking aid such as this, but aren't sure which one to pick, give us a call or check out some of our selection online.
---
A rollator is a more mobile stability aid that is used when a person can walk but just needs a little help with their balance and stability. Rollators are available in three- or four-wheel options and allow you to walk at a quicker pace and help with a normal gait. The user should be able to steer the rollator and operate the handbrakes as needed.
Rollators come in a variety of colors and can be a bit more stylish than walkers. Rollators are often heavier than walkers because of the wheels and brake system that they have.
Types of Rollators Available
There are three main types of rollators, and each comes with its benefits and set of features.
Three-Wheel Rollator: These rollators fit in smaller spaces, can make sharp turns and have increased maneuverability. They're lighter than the four-wheeled options, however, their design means they don't offer a seat. They have one swiveling wheel in the front and two wheels in the back. They often come with a basket, pouch or both for storage.
Four-Wheel Rollator: These rollators offer more stability and enhance mobility and walking speed. Because of their four wheels, they require steering and handbrake operation, which may not make it the best option for all users. These rollators have two swiveling wheels in the front and two wheels in the back. They come with seats that may be padded. They often feature a storage basket or tote bag under the seat.
Heavy-Duty Rollator: These rollators, also known as bariatric rollators, have a higher weight capacity than standard rollators. They usually feature reinforced steel and wider seats, and the wheels tend to be bigger and wider.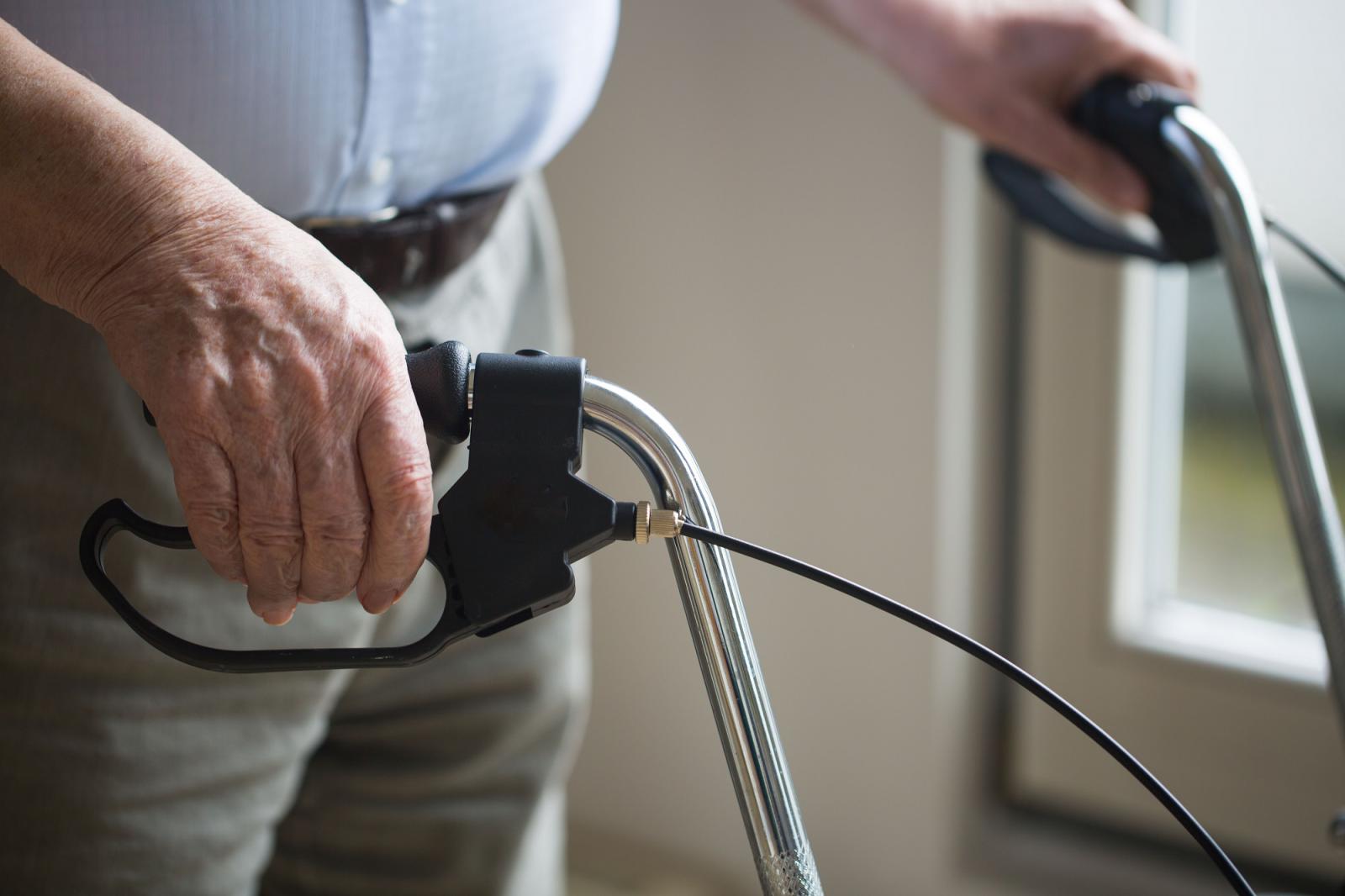 ---
What Is the Difference Between a Walker and A Rollator?
Walkers and rollators are similar mobility aids, but there are some key differences between them. The main difference between them is that rollators are fully wheeled with large casters, while some walkers may feature wheels, but those wheels are typically smaller and only on two of the four legs. Many rollators also have features that walkers don't, such as a seat, backrest and handbrakes.
Where Can I Purchase a Mobility Aid?
Right here! At Southern Pharmaceutical Corporation, we're your local mobility experts. Our team can help you find the device that suits your lifestyle and needs best. We carry a wide selection of mobility devices from leading manufacturers such as Pride Mobility, Ki Mobility, Permobil, Roscoe Medical and many more. Explore our catalog below to get an idea of what we carry or call us and we'll help you find what you need.
How Can I Pay for My Mobility Device?
Southern Pharmaceutical Corporation participates in most major insurance plans and is a Medicare-participating provider. Our billing experts coordinate insurance billing for covered items. If you're curious which mobility devices could be covered by your insurance or Medicare, please don't hesitate to reach out to us or your insurance provider for help. Click the button below to get in touch with our team.
Questions?
Contact our mobility experts for help by filling out the form below.